Sports and classic cars, as well as a collection of automotive souvenirs, provide a beautiful setting, but something even better lies beneath it – an Italian restaurant with a unique, relaxed atmosphere and excellent food. This is where you can embark on your best automotive journey through unforgettable races and historic places, accompanied by delicious food and top-class drinks.
About La Squadra Ristorante
La Squadra Ristorante offers modern Italian cuisine. Our dishes are created using traditional Italian ingredients imported directly from Italy, as well as fresh microgreens and edible flowers from a local suppliers. Our dishes are inspired by the highest quality and unique taste, as well as by our surroundings, which include exceptional cars. We also put a lot of love on the plate, which is reflected in the design of our dishes, making the food a joyful experience for all senses. Always present in the gallery section, our sports and classic cars provide a visual complement to our feast and make for a perfect meeting place.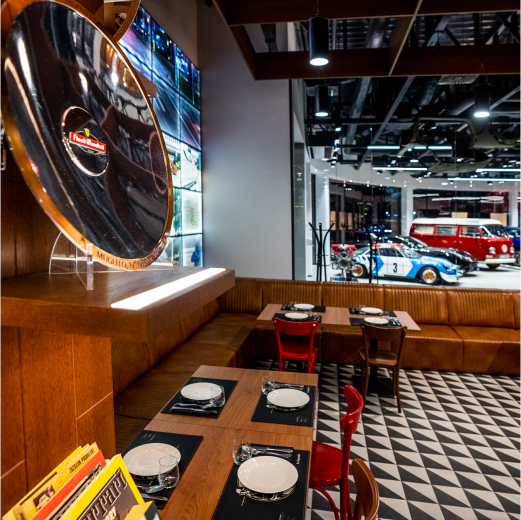 About the menu
Every journey teaches us something new, allows us to discover new flavours and experiences, which is why our culinary journey does not end with just one menu. La Squadra Ristorante offers two menus: a lunch menu, which is available from 12 PM to 3 PM, and an evening menu, which starts at 3 PM. In addition, the La Squadra Ristorante menu changes four times a year so that everyone can rediscover the magic of seasonal ingredients and fall in love with exceptional dishes all over again.
Book a table
To book a table at our restaurant, please fill out the form below with the number of guests, date and time. You can also call +48 882 350 404 to book a table.