On 1 February 2023, the one-of-a-kind Bugatti Chiron Profilée was sold for a record-breaking €9,792,500 at the Louvre auction held by RM Auctions. Surprisingly, the car was never meant to see the light of day. And it is this strange fact that is key to understanding the impressively effective and carefully planned strategy which allows Bugatti to build up the value of its products to unparalleled levels.
The case described goes down in history not only as the most expensive Chiron but also as the most expensive new car ever sold at auction. It should come as no surprise that this title went to a Bugatti creation. Like no other in the world, the brand combines its rich 114-year history with top-tier exclusivity expressed by technical solutions unavailable to other car manufacturers and the significantly limited supply of every model made.
Despite numerous temptations, like entering the lucrative SUV segment, creating a less expensive model to cash in on the brand's legend, or guaranteeing similar performance in a much easier and cheaper way with electric motors, the small Alsatian manufactory remains stubbornly committed to the principles laid down by its legendary founder Ettore Bugatti in 1909.
As it turns out, they are still going strong in 2023, even if the world has changed so much in the meantime, with entirely new markets emerging in today's globalised and digitised world, not only in terms of geography but also with regard to things like cryptocurrencies and NFTs, a hallmark of our times. How, in such turbulent conditions, does one create a car that will maintain a very high value not only for years but for decades to come? The recently sold Chiron Profilée is the perfect answer to this question.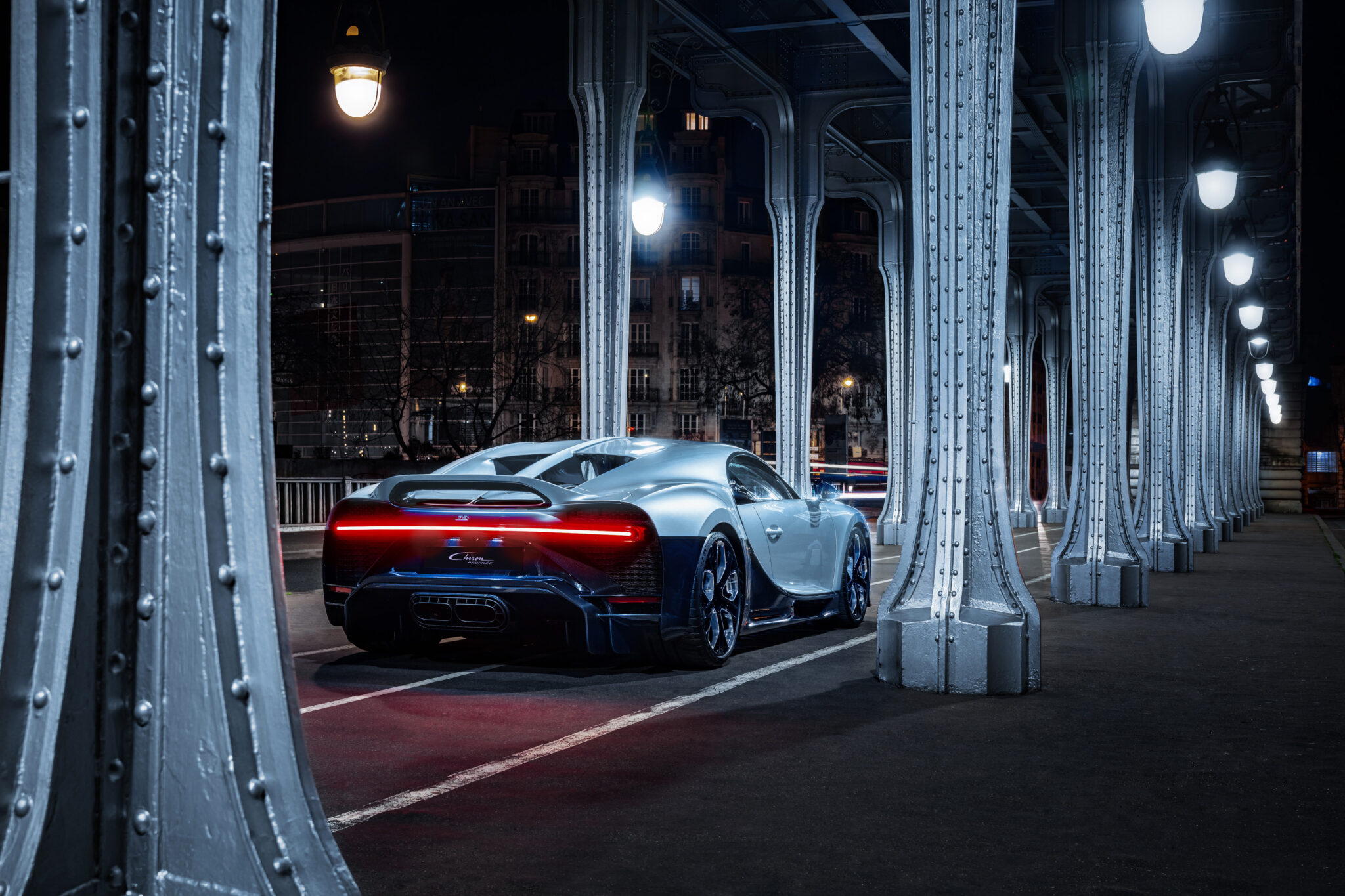 How to create lasting value
Firstly: such a car must be timeless. It's no coincidence that Chiron's design is so clean and immune to transient trends: it was equally impressive when it debuted in 2016 (Would you believe it's already been seven years? That's right!) as it is now, and will remain so in another seven or seventeen years.
Here, even the tiniest details adhere to this principle. It is also no coincidence that Chiron's dashboard has no central display, and the speedometer is analogue, too. While their absence may disappoint some today, by 2050 the screens and other bits and bobs of today's motoring world will likely prompt a smile of pity. Meanwhile, Bugatti's car will still be the embodiment of timeless design and craftsmanship at that time.
This value, ensured by resistance to short-lived fads, which gives the Chiron a unique position in the entire market, is largely determined by yet another factor: the engine. At the heart of this model is perhaps the greatest engineering achievement in automotive history, a sixteen-cylinder (!) eight-litre displacement design that generates up to 1,600 hp with the help of four turbochargers (but without any hybridisation). Not only does it deliver stunning acceleration results (0–100 km/h in just over 2 seconds and 0–300 km/h in a little more than 12 seconds, depending on the version), but also allows the Chiron to hold the historic title of the world's fastest car. One Chiron derivative recorded an unthinkable speed of 490.5 km/h (cars transferred to customers are electronically restricted to a top speed of "only" 440 km/h).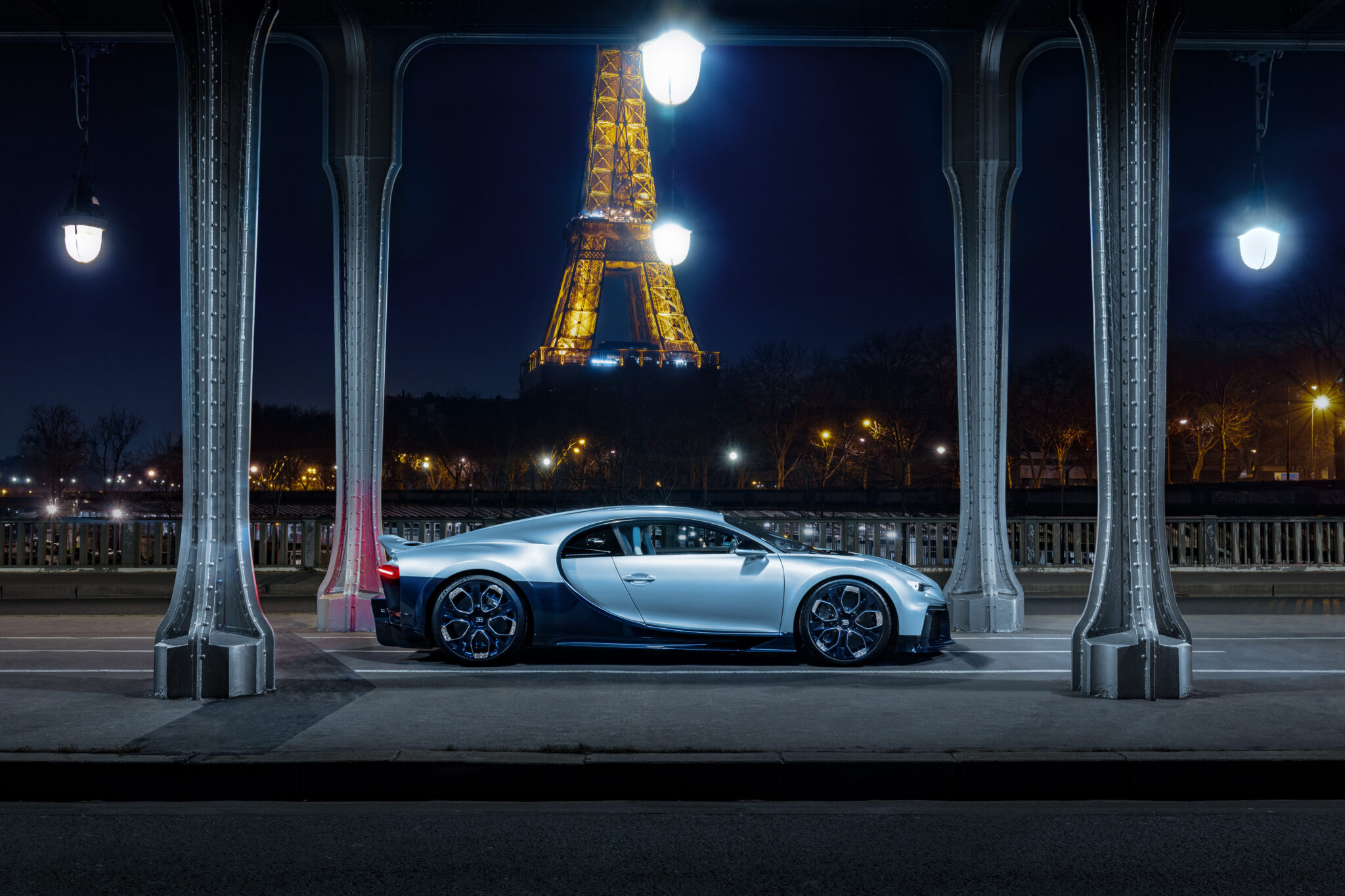 The value of the Chiron was driven equally by designers and engineers, as well as market specialists. Contrary to appearances, their job was not just to limit all production to some number that would deprive a few multimillionaires of the chance to buy their dream car (undoubtedly making them very sad). Indeed, their contribution to the success of this model and the long-term shaping of its value is far more clever.
The production limit for this model alone has been set at 500 examples. That's a big figure as far as hypercars go: it's more than what both Pagani and Koenigsegg have produced in their entire history. This is why the "standard" Chiron was quickly joined by other versions, markedly different in appearance, character and purpose, at least some of which can now be considered separate models. Such special derivative series and even more limited varieties account for nearly half of the total Chiron production; this makes any one form in which this model appears rarer and thus harder to get and, therefore, more expensive.
The list of all Chiron derivatives, together with their production volumes, is as follows: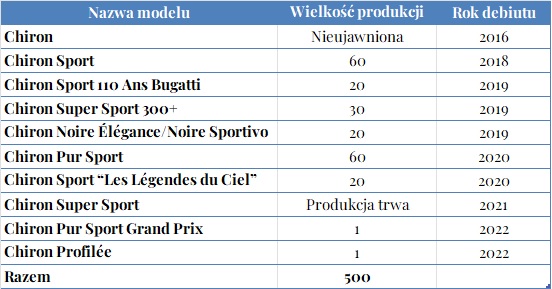 (the table does not include models technically related to the Chiron but considered by Bugatti as separate models, e.g. the W16 Mistral or Bolide)
A victim of its own success
Yet, Bugatti's strategists could not have predicted that the Chiron would be this sought-after even with a price tag starting as high as €2.4 million at launch. The first 200 of the 500 cars, scheduled for production over the next seven years, had already sold out before the official launch. Despite the introduction of increasingly advanced and sophisticated (and therefore more expensive) variants to help tone it down, the demand continued to remain high.
This led to a perplexing situation in which the showcased Chiron Profilée, which was to see a production run numbering in the dozens… did not manage to enter the market at all. All 500 Chirons had been sold before it had a chance to do so. Thus, the special variant, developed jointly for many months by numerous design, set-up, production and quality testing teams, became a one-off, which arrived at the Louvre auction with a mileage of 396 km.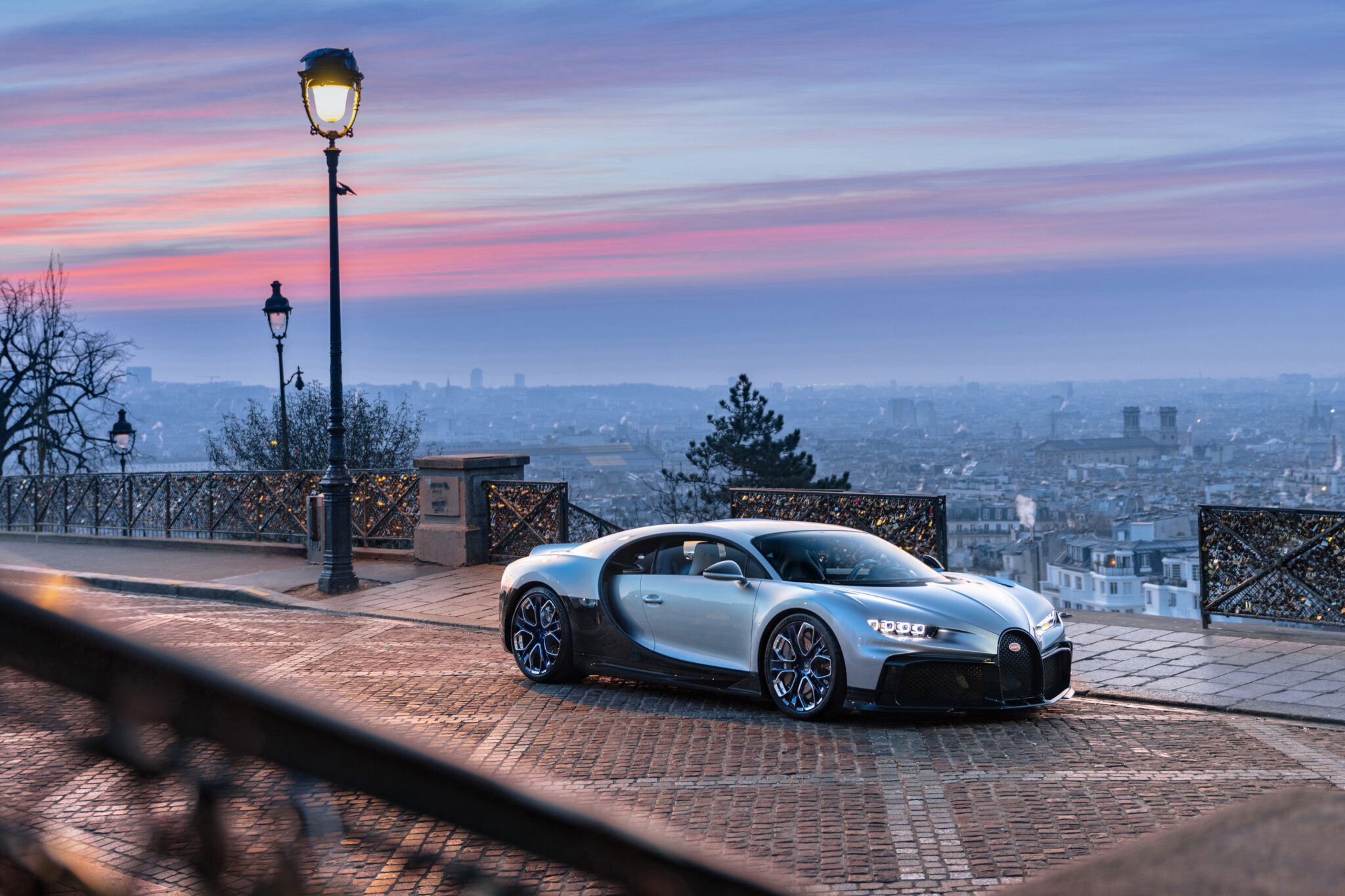 Its creators intended the Chiron Profilée to bring together the two opposite extremes of this model that had already been in development for seven years. On the one hand, the extreme Chiron Pur Sport with a wing nearly two metres wide; on the other, the Chiron Super Sport — a Hyper-Gran Turismo with an engine boosted to 1,600 hp. The Chiron Profilée combined the dynamic flair of the former with the purist body design of the latter.
Though never implemented outside the showcase model, this design genuinely appealed to at least one person. So much so that — according to my friends who were at the auction — this individual was prepared to outbid everyone he met on his way, and pay even more for this car than he ultimately did.
In this way, the auction winner made his dream come true, but was this a sound business choice? All one needs to answer this question is to analyse Bugatti's historical market performance. The conclusions leave no doubt: the brand's models are rapidly increasing in value. While an EB110 GT model from the early 1990s was worth about €280,000 as recently as 2011, in February 2019, the auction value of one 1994 example exceeded €2 million. Meanwhile, the value of the Veyron, produced in 450 copies, has been as follows: a list price starting from €1.16 million at launch in 2005; an average of €0.62 million for a used one in 2011; over €1.3 million for the same cars today. And yet, against the backdrop of its predecessors, the Chiron represents another leap forward: both technologically and in terms of design and, ultimately, thoughtful market positioning.